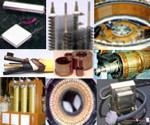 Motors & Generators: Armature Coil, Commutator, Heat Sink, Rotating field Coil, Bushing, Coil, End Laminate, Lead Insulation, Mid-stick, Phase insulation, Slot cell, V-Ring, Wedge.
Transformers: Core and Barrier Tubes, Coil insulation, End pack out, Inter-phase and Inter-layer insulation, Turn Insulation layer, Wire Wrap.
Electric Heating appliances: Coffee percolator, Curling Iron, Flat-Iron, Hair Dryer, Hot plate, Rice Cooker, Soldering Iron, Toaster, Waffle Iron, Branding Iron, Glue pot, Laundry Iron, Lead pot, Surface Heater.
Electrical Controls: Electrical and Thermal Regulator, Grid resistance Box, Industrial motor starter, Motor control panel, Rheostat rod and terminal.
Electrical lighting equipment: Arc lamp, Dimmer Switch, Flasher, Large Incandescent Lamp, Liner for Lamp Shade, Neon-Light.
Mechanical Uses: Compass cards, Diaphragms for hearing aids, Oxygen breathing apparatus, Quarter wave plates for optical instruments, Shields for liquid level, Stove and furnace inspection windows.
Electronic Uses: Capacitor, Geiger-Mueller Counter, Magnetic head of computer, Microwave Window, Solid state application, Transistor Shield, Tube, Vacuum Tube, X-ray Apparatus.