It is a synthetic form of Mica produced from a balanced mixture of high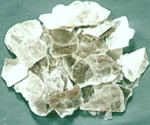 purity minerals and chemicals through melting at very high temperature and crystal formation technique. It is also known as "Fluorophlogopite" Mica.
The cleavage of synthetic mica is similar to that of natural muscovite mica. It has a lower dielectric strength than muscovite. However, they exhibit much higher heat endurance up to 1300 °C.
It is colorless transparent with excellent transmittance to infrared or ultraviolet rays.
They possess excellent chemical stability and do not contain water; they can safely be used under high vacuum without gas outgoing. It is widely and safely used as spacers in High Pressure Vacuum Devices.
Due to high temperature endurance, it is used for Gasket seals for automotive exhaust systems in the form of laminates and for insulating fire resistant electrical cables in the form of Tape.
Synthetic Mica Powder being iron free is widely used in automotive metallic paints since it does not change due to weathering.
Synthetic Mica is available in the form of;