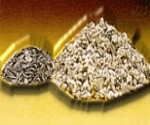 Vermiculite is a hydrated laminar magnesium-aluminum-iron-silicate which resembles mica in appearance. When subjected to heat, due to the inter-laminar steam generation, it exfoliates or expands several times.
Vermiculite mined, cleaned and then screened or classified into several basic particle sizes. The bulk density of crude vermiculite or vermiculite concentrate is in the range of 640-1120 kg/cu m or 40-70 lb/cu ft.
Application Categories
Industrial
Paints, Molded products, Brake pads & shoes, Fireproof safes, Filtration, Insulation, Insulation blocks & shapes, Furnaces, Sealants, Fixation of hazardous materials, Castables, Drilling mud
Nuclear waste disposal, Absorbent packing, Perfume absorbent, Molten metal insulation, Dispersions.
Civil Construction
Gypsum Plaster, Air setting binder, Board, Loft insulation, Fire protection, Acoustic finishes, Floor & roof screeds, Lightweight Insulating Concrete, Sound deadening compounds.
Agriculture
Animal feed, Pesticide, Fertilizer, Bulking Agent, Seed encapsulant, Anti-caking material, Soil conditioner.
Horticulture
Seed germination, Sowing composts, Seedling wedge mix, Blocking mixes, Rooting Cuttings, Micro-propagation, Twin scaling bulbs, Potting mixes, Hydroponics.