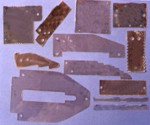 Resistance and Potentiometer: Mica is flexible in thin sheets and could easily wound around and bent into a circle to a diameter as small as 1/8th inch without fracturing. At the same time it has high mechanical strength and ability to withstand high temperature at ease. As such medium quality thin mica sheets are used as a non-conductive resistance cards, as well as, potentiometer cards as a base material.
Electric Heating Appliances: The largest non-electronic use of muscovite sheet mica of lower qualities are in the manufacture of electric heating appliances requiring non-inflammability and dielectric resistance, such as: flat-irons, toasters kettles, percolators, griddles, boilers, water heaters, ovens, rice cookers, slow cookers, radiators, hair dryers, soldering irons, glue pots, lead melting vats and other heating appliances. The main function of mica for the above applications is to support and separate heating elements and nickel-chrome resistance wire.
Sound Device Plates: Resonance and elasticity of mica makes it a good sound producer, receiver and transmitter of sound waves and therefore, it is particularly suitable for acoustics apparatus used in submarines and airplanes as diaphragms for detecting sound. It is also employed in the manufacture of other sound producing and sound detecting devices, such as detonators, radiophone, gramophone, sound boxes, headphone, loudspeakers etc.