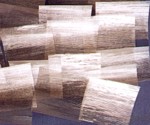 Crimped Sheet is prepared from mica films in specific size and thickness and passed through a specially designed rolling machine to form vertical, horizontal or diagonal corrugated ribs. The rollers are designed to perform crimping very smoothly to precise dimensions without pilling or cracking mica sheets.
Crimped fabricated mica becomes very soft and easily single directional roll able for use in wrap insulation, where natural MICA is critically required.
Primary and Secondary Insulation: Natural mica absorbs practically zero moisture. It can be cleaned readily, is incompressible and not subject to cold flow. It also has the ability to withstand arcing and corona without permanent injury. These characteristics combined make fabricated crimped mica parts highly suitable for use in electronic and electrical apparatus both as a primary and secondary insulation.
High Tension Coil for Radars: Mica wrappers in specified thickness are used for thermal insulation of high-tension radar coils.
Soldering Irons: Fabricated and or Crimped Mica film wrapped around the entire length of the flat part of the copper bit of a soldering iron eliminate physical contact between the resistance wire and the copper bit to avoid short circuit. Mica also ensures low resistance to heat transfer and high efficiency in the operation of the instrument thus.