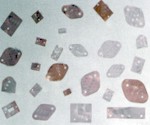 Jet Engines: These engines are put into motion by a magnet, which depends for efficient functioning on a support of a mica component.
Transistor and Semiconductor: Mica Parts are used as washers and supports for both electrical and heat insulation due to their excellent mechanical and thermal properties. Mica parts help the component by insulating from the chassis and to dissipate the heat away from the components & keeping them cool. Its added advantages are low moisture absorption, high breakdown voltage and high resistance to surface leakage.
Neon Lights: Mica is used as insulation in the glass cylinder enclosing the electrodes of Neon-light signs.
High Voltage Lamps: Because of its excellent electrical, mechanical and thermal properties sheet mica of medium quality are used as supports of the leads to the intensely hot glowing tungsten filaments of high power GLS lamps. Mica permits the lamps to withstand vibration and shock during operation and prevent gassing in the operating environment of lamps.
Miscellaneous Uses: Lamps, Fuse Plugs, Electric Lamp Socket, Lighting Apparatus, Grid Rheostats, Insulating washers, Discs and terminal plates for incandescent lamps, Fuse plugs, Fuse boxes, Electric lamp sockets, Lightning arresters, Induction coils, Insulation for motor controls and other General electric insulation in devices.