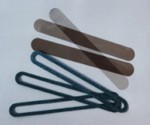 Mica Shield & Gaskets are made of the highest quality flat sheets of muscovite natural mica, cut and punched to accurate specified dimensions and thickness, having very high degree of thru vision transparency.
Suitable for:
Used In:
Tanks and Vessels of all kinds

Oil Refineries

Petrochemical Plants

Chemical Plants and Oil Refineries

Fertilizer Plants

Nuclear Power Stations

Thermal Power Stations

Electricity Generating Stations.
Typical Properties
Guarantee a direct reading and clear observation of liquid levels and its characteristics — provide a perfect visual indication to watch the nature and degree of combustion in blast furnaces of high-pressure steam boilers.
Mica Shields protect the inner surfaces of the gauge glass against erosion by steam and other elements and from the corrosive chemical effects of alkaline solutions, water, caustics, hot concentrated phosphoric acids sodium and potassium and other media.
Mica Shields eliminates completely the risk of breakage, cracks, jerks, thermal shocks combustion effects or fuses when used at higher steam pressures and working temperatures.
Mica Shields increases the service life of the gauge glass by retaining its basic strength when used at higher pressures and is a must where pressures exceed 350 PSI (2400kpa) @ 431° F.