Micronised Mica Powder
Micronised Mica Powder is produced by regrinding of pulverized 100 mesh powder by Turbo Rotor or Jet size reduction machines. This is mainly used as:
325 - 500 Mesh: To improve exterior durability, increase moisture resistance, weather proofing and corrosion resistant in Zinc & metal primers particularly for ships.
500 - 1000 Mesh: Imparts heat resistance, impact strength, improve dielectric properties, enhances thermal & electrical insulating characteristics in Plastic, Paper, Rubber, paints & cosmetics.
Also used in Lubricants, grease, fire extinguishers, fabrics, printing materials, dry color sealant, anti-friction compounds etc.
Calcined Powder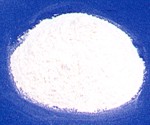 Calcined Mica Powder mica is produced by grinding Mica Scrap properly cleaned by removing all types of foreign particles there after Calcining the raw material in a Rotary Kiln to out gas inter laminar water completely. They exhibit much superior properties than normal Dry Ground Powder.
They are tough and inert to most of the chemicals and thermal conditions while retaining elasticity and slipperiness far superior to conventional ground minerals or rocks.