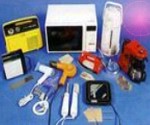 Mica heating elements are assembled from natural fabricated mica former or Reconstituted Heater Plates suitable for all types of domestic and Industrial Appliances. They provide excellent heat, thermal & flame insulation properties. Patterns and dimensions are precisely customized as per customer's drawings.
Paper Micanite
Magnetic or Non Magnetic Resistance Wire.

Paper Micanite Heater Laminate Former.
Mica Blocks
Mica Heating elements are the best selections for long lasting and most hygienic components used for Domestic appliances as:
Flat Iron

Bread Toaster

Electric Kettle

Pop Corner

Milk Warmer

Electric Oven

Hair Driers

Hot Plates

Hot Air Blower

Coffee Percolator

Rice Cooker
All Mica heaters are customized as per customerís drawings to meet their specifications precisely.