Rugged construction along with high temperature and high watt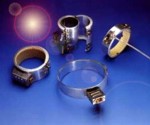 density capabilities allow the Mica Band Heater to surpass all other band heaters in providing the ever increasing temperatures required for processing today's high tech materials.
Mica-insulated band heaters have proved themselves to be a reliable insulation for heating the barrels and nozzles of plastic molding and extruding machines to perform at higher operating temperatures up to 1200 °F (650 °C), providing long, efficient and dependable service life necessary for today's high productivity of plastic extruders, injection and blow molding machines, autoclaves, heating pipes, barrels and a wide range of cylinder-heating applications. They are constructed by winding a high quality nickel-chromium ribbon wound around a selected grade of sheet mica having an excellent dielectric and mechanical strength, as well as, thermo-conductivity, sandwiching the resistance element between two other mica sheets, and then folding sheet-metal around the sandwich to the desired circular shape. Mica type band heaters are constructed in either one or two piece configurations using a claming straps for easy installation by slipping the heater over the cylinder and tightening the single clamping screw to provide optimum contact throughout the operating range.
The connection systems employed are either plug pins, screw type terminals, or twin leads, insulated internally and externally with mica washers, serviced with porcelain beads or fiber-glass sleeving designed for long trouble-free service life.