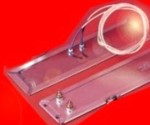 Mica-insulated strip heaters have proven to be an economical, practical and reliable heat source, capable of providing uniform heat transfer to flat surfaces, retaining good heater life, with ability to operate at higher temperature with continuous operating temperature rating of 1200 °F (650 °C) with maximum efficiency. They are manufactured in any desired width and length ranging from 1 to 18 inches width, by 1.1/2 to 60 inches lengths, by 1/8 inch thick, using nickel-chromium ribbon wire evenly space wound on a specially selected mica strips, enclosed in a rust-resistant steel sheath casing, as per customers' requirements, with terminal at one or both ends with or without mounting holes. They are clamped securely along their entire length to a smooth metal surface to prevent distortion or unequal expansion.
They are manufactured for electric rating ranging from 050 to 2000 watts and to operate at 115 and 220 volt circuits. Strip or finned heaters are used for process machine, dies, molds, tanks, kettles, cylinders or other applications where con- trolled heating is needed. Typical applications are blow molding equipment, food warming equipment, platens in hydraulic presses, incubators, plastic molds, hot plates, ovens, testing equipment, vulcanizing presses, vending machines and hundreds of industrial heating applications.
We can supply the perfect heat source for any strip heater application.