Surface Heater essentially consist of three pieces of n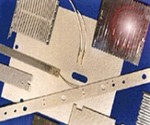 atural or Heat Resisting Micanite sheet cut or punched to a specified shape conforming to the bottom plate. The upper and bottom sheets or cover are used for insulation purposes to support and separate the mica wire winding card which is placed in the middle and is wound with a specific gauge of high grade nickel-chrome resistance ribbon wire providing even heat distribution to the flat surface and maximum heating life to the element under severe heat encountered in the service. These heating elements for surface heating applications are custom-built to fit different configurations in electric ratings ranging from 150 to 3000 watts, suitable to operate at 110/120 and 220/230 volt circuits.
Customized mounting holes are provided for easy installation. Irregular shapes are easily accommodated. Uniform heating is provided over the entire heater surface. For applications requiring heat concentrations in specific areas, the element is profiled to match the pattern.
Mica surface heaters are the most reliable and efficient heating solutions for tanks, platens and other surface heating applications, freeze and moisture protection in control cabinets, and infinite other industrial and commercial applications.
We can design or produce customized heaters exactly as per your drawings or samples and supply the perfect heat source for any surface heater application.