Mica has exceptional chemical, electrical, thermal and mechanical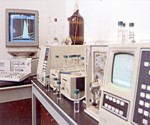 properties not found in other mineral.
Mica has high heat resistance, transparency, optical clarity, flexibility, flatness and non-breakability. The transparency of mica is not much affected by the repeated fluctuations in heating and cooling and is not attacked by most of the gases and vapors it might come in contact with.
Besides, mica resists shocks and strains or vibration and could easily be used in place of glass where there is chance of exposition to radiate heat, breakage or cracking. On account of its above qualities mica is suitably used in various industries calling for these properties in a single substance.