Flexible Plate is processed by stacking mica paper to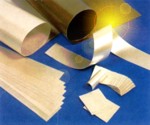 required thickness and bonded to each other with a desired thermal class thermoplastic resin. It is then set to plate form by applying hot press. The temperature for used binder resin is controlled and maintained to a stable environment and fully cured to form dense and flexible sheets.
Flexible laminates are used for insulation at critical shape places as wrap insulation, separators & layer insulation. It is also used in assembly of flexible heating elements for Hair Driers, Microwave oven etc. as winding cards.
Typical Properties
Description

FLM 501

FLP 501

FLF 501

Mica Paper

Muscovite

Phlogopite

Synthetic

Binder Resin

Silicone

Silicone

Silicone

Thickness

0.2~1.5mm

0.2~2.0mm

0.2~2.0mm

Thickness

Tolerance

Average ±

0.02

0.02

0.02

Individual ±

0.03~0.04

0.03~0.04

0.03~0.04

Density g/cm2

2.0~2.5

2.0~2.3

2.0~2.2

Mica Content % App.

86~90

86~90

86~90

Compressibility

at 200 °C

Under 300 kgf/cm2

0.5~1.5 %

0.5~1.5 %

0.5~1.0 %

Elastic Compression %

1.0~1.5

1.0~1.5

1.0~1.2

Plastic Deformation %

0.6~1.2

0.6~1.2

0.6~1.0

Punchability

Clean Edge

Clean Edge

Clean Edge

Dielectric Strength kv/mm

> 20

> 25

> 30

Temperature Endurance

550 °C

850 °C

1250 °C