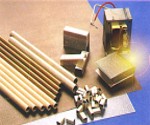 Mica Paper Formed parts are produced by hot forming the Molding Mica Laminates with special moulds in any shape or size Customized to specific drawings.
Major applications in insulation of Grid and rheostat rods, railway and induction-motor brush holder studs, collector studs, carbon-brush supports, high voltage cables, conductor bars, slot linings of any cross-section, bobbins, collars, Commutator sleeves, dry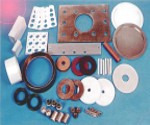 bushings, slip- ring leads, resistance boxes, X-ray equipments, panels, bush bars, high potential rods and terminals, furnaces, switchgears, circuit breakers, transformers, E.O.T. cranes and trolleys, metallic pivots etc. They are also used as spacers, supports and bushes of electrical resistances in electro domestic and industrial equipments and heavy loaded machines.
Typical Properties
Description

MLM 502

MLP 502

MLF 502

Mica Paper

Muscovite

Phlogopite

Synthetic

Binder Resin

Silicone

Silicone

Silicone

Thickness

0.2~1.5mm

0.2~5.0mm

0.2~5.0mm

Thickness

Tolerance

Average ±

0.02

0.02

0.02

Individual ±

0.03~0.04

0.03~0.04

0.03~0.04

Density g/cm2

2.0~2.5

2.0~2.3

2.0~2.2

Mica Content % App.

86~90

86~90

86~90

Compressibility

< 300 kgf/cm2

0.5~1.5 %

0.5~1.5 %

0.5~1.0 %

Elastic Compression %

1.0~1.5

1.0~1.5

1.0~1.2

Plastic Deformation %

0.6~1.2

0.6~1.2

0.6~1.0

Punchability

Clean Edge

Clean Edge

Clean Edge

Dielectric Strength kv/mm

> 20

> 25

> 30

Temperature Endurance

550 °C

850 °C

1250 °C