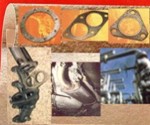 Gasket Plate is processed by stacking mica paper to required thickness and bonded to with silicone resin. It is then set to plate form by applying hot press under stable environment and fully cured to form dense and flexible sheets.
It is 100% incombustible and resistant to tracking and electrical erosion. They possess exceptional dielectric strength, high mechanical modulus, and high chemical resistance and are natural non-toxic product.
Besides other industrial applications, Gasket laminates are used for reproducing high temperature gaskets for use in exhaust system collectors and silencers of automobiles.
Typical Properties
Description

GLM 501

GLP 501

GLF 501

Mica Paper

Muscovite

Phlogopite

Synthetic

Binder Resin

Silicone

Silicone

Silicone

Thickness

0.2~1.5mm

0.2~2.0mm

0.2~2.0mm

Thickness

Tolerance

Average ±

0.02

0.02

0.02

Individual ±

0.03~0.04

0.03~0.04

0.03~0.04

Density g/cm2

2.0~2.5

2.0~2.3

2.0~2.2

Mica Content % App.

86~90

86~90

86~90

Compressibility

at 200 °C

Under 300 kgf/cm2

0.5~1.5 %

0.5~1.5 %

0.5~1.0 %

Elastic Compression %

1.0~1.5

1.0~1.5

1.0~1.2

Plastic Deformation %

0.6~1.2

0.6~1.2

0.6~1.0

Punchability

Clean Edge

Clean Edge

Clean Edge

Dielectric Strength kv/mm

> 20

> 25

> 30

Temperature Endurance

550 °C

850 °C

1250 °C