Profile Plate is processed by stacking mica paper to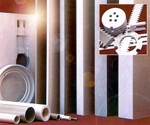 required thickness and bonded with Silicone or Epoxy resin and set to plate form by applying hot press. The resin is fully cured to form dense and rigid sheets so that the sheets can be introduced to machining, profiling or sawing to any required size without peeling.
The product is with high mechanical strength, high thermal resistance and excellent insulation properties.
They can be widely applied to reproduce machined or profiled insulating parts such as Plate, Separator, Disc, Spacer, Washers and Dynamic Break Resistors.
Typical Properties
Description

PLLM 501

PLLP 501

PLLF 501

Mica Paper

Muscovite

Phlogopite

Synthetic

Binder Resin

Epoxy

Silicone

Silicone

Thickness

3 ~ 100 mm

3 ~ 100 mm

3 ~ 100 mm

Thickness

Tolerance

Average ±

0. 2

0.2

0.2

Individual ±

0.3~0.4

0.3~0.04

0.3~0.4

Density g/cm2

2.0~2.5

2.0~2.3

2.0~2.2

Mica Content % App.

82~86

82~86

82~86

Compressibility

at 200 °C

Under 300 kgf/cm2

0.5~1.5 %

0.5~1.5 %

0.5~1.0 %

Elastic Compression %

1.0~1.5

1.0~1.5

1.0~1.2

Plastic Deformation %

0.6~1.2

0.6~1.2

0.6~1.0

Machineability

Clean Edge

Clean Edge

Clean Edge

Dielectric Strength kv/mm

> 20

> 25

> 30

Temperature Endurance

550 °C

850 °C

1250 °C