Reinforced Plate is processed by stacking mica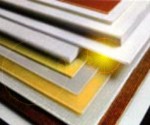 paper to desired thickness and bonded to each other with a high temperature resisting resins on glass cloth reinforcement. It is then set to sheet form by applying hot press. The used binder resin is controlled to maintain a stable and fully cured state to for rigid and dense plates and semi cured state (B Stage) to form dense and flexible sheets.
Major applications of the material are to wrapping material for crucible winding boards, as a protective barrier during the sintering of crucible obtained by the introduction of molten metal, insulation covering in transformer and coil.
Typical Properties
Description

RLM 501

RLP 501

RLF 501

Mica Paper

Muscovite

Phlogopite

Synthetic

Binder Resin

Silicone

Silicone

Silicone

Thickness

0.2~1.5mm

0.2~5.0mm

0.2~5.0mm

Thickness

Tolerance

Average ±

0.02

0.02

0.02

Individual ±

0.03~0.04

0.03~0.04

0.03~0.04

Density g/cm2

2.0~2.5

2.0~2.3

2.0~2.2

Mica Content % App.

86~90

86~90

86~90

Compressibility

at 200 °C

Under 300 kgf/cm2

0.5~1.5 %

0.5~1.5 %

0.5~1.0 %

Elastic Compression %

1.0~1.5

1.0~1.5

1.0~1.2

Plastic Deformation %

0.6~1.2

0.6~1.2

0.6~1.0

Punchability

Clean Edge

Clean Edge

Clean Edge

Dielectric Strength kv/mm

> 20

> 25

> 30

Temperature Endurance

550 °C

850 °C

1250 °C