Segment Plate is processed by stacking mica paper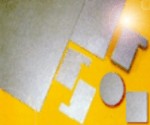 to required thickness and bonded to each other with a high temperature resisting EPOXY resins. It is then set to plate form by applying hot press. The used binder resin is controlled to maintain a stable and fully cured state to form dense and rigid sheets so that the sheets can be introduced to machining, shearing, punching or stamping to any required size without peeling. They are further introduced to surface sanding to calibrate precision thickness.
The Commutator is the most important component in electric motors. Since the very high mechanical stresses that a Commutator has to withstand at varying temperature, high-class insulating material should be incorporated and here is the choice with Segment Laminates.
Typical Properties
Description

SLM 501

SLP 501

SLF 501

Mica Paper

Muscovite

Phlogopite

Synthetic

Binder Resin

Epoxy

Epoxy

Silicone

Thickness

0.2~1.5mm

0.2~1.5 mm

0.2~1. 5 mm

Thickness

Tolerance

Average ±

0.02

0.02

0.02

Individual ±

0.03~0.04

0.03~0.04

0.03~0.04

Density g/cm2

2.0~2.5

2.0~2.3

2.0~2.2

Mica Content % App.

86~90

86~90

86~90

Compressibility

at 200 °C

Under 300 kgf/cm2

0.5~1.5 %

0.5~1.5 %

0.5~1.0 %

Elastic Compression %

1.0~1.5

1.0~1.5

1.0~1.2

Plastic Deformation %

0.6~1.2

0.6~1.2

0.6~1.0

Punchability

Clean Edge

Clean Edge

Clean Edge

Dielectric Strength kv/mm

> 20

> 25

> 30

Temperature Endurance

250 °C

250 °C

1250 °C