Flexible Sheets are made from mica splitting being laid-up and bonded to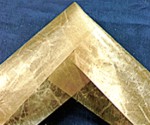 each other with a desired thermal class thermoplastic resin. It is then set to sheet form by applying hot press to get fully cured or semi cured flexible sheets. Semi cured sheets can be introduced to PRESS FORMING in any required shape without heating or a temperature between 100 °C to 110 °C and cured after obtaining desired shape.
They possesses excellent insulating properties, high mechanical strength and resistance to chemicals & temperature, sufficient permanent flexibility & adhesiveness to permit winding or wrapping of the sheet at room temperature.
Fully cures sheets are used as spacers, slot insulation, motor insulation, dry transformer, wrapping or layer insulation, separators and emergency repairs.
Semi cured sheets are used in Commutator V-rings & cones, insulation for stators, slots, field coils, slip rings and shafts. It can also be reproduced to clamps, sleeves, and tubes etc.
Typical Properties
Description

FSP 401

FSE 401

FSS 401

Mica Splitting

Muscovite

Muscovite

Muscovite

Binder Resin

Shellac

Epoxy

Silicone

Thickness

0.2~1.0mm

0.2~2.0mm

0.2~2.0mm

Thickness

Tolerance

Average ±

0.05

0.03

0.03

Individual ±

0.03~0.05

0.03~0.05

0.03~0.05

Density g/cm2

2.0~2.5

2.0~2.5

2.0~2.5

Mica Content % App.

85~90

90~95

86~90

Tensile Strength N/cm

-

80

30

Dielectric Strength kv/mm

> 40

> 50

> 40