We reproduce formed, machined or punched parts from the Flexible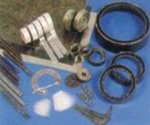 Micanite sheets in any shape or size Customized to specific drawings.
Micanite tubes are formed with Flexible Micanite wounded around a heated mandrel in required layers to attain specific wall thickness and diameter. The tubes are then cured for binder under high temperature and baked.
Formed Parts: - V-Ring, Tube, Wedge, Barrier and Spacer etc.
Punched Parts: - Plates, Insert, Washer and Disc etc.
Typical Properties
| | | | |
| --- | --- | --- | --- |
| Description | MSP 401 | MSE 401 | MSS 401 |
| Mica Splitting | Muscovite | Muscovite | Muscovite |
| Binder Resin | Shellac | Epoxy | Silicone |
| Thick./Inner Dimension Min | 0.2 – 5 mm | 0.2 – 5 mm | 0.2 – 5 mm |
| Outer Dimension Max | 400 mm | 400 mm | 400 mm |
| Density g/cm2 | 2.0~2.5 | 2.0~2.5 | 2.0~2.5 |
| Mica Content % App. | 85~90 | 90~95 | 86~90 |
| Dielectric Strength kv/mm | > 20 | > 20 | > 20 |