Mica in its natural form has limitations as to it process-ability and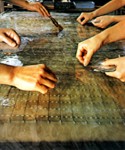 versatility and also very high cost for large sheets. To acquire the flexibility, adaptability in consideration of cost factor, Splitting Micanite is a product in such a form that it is available in composite sheets and a variety of shapes, thickness and sizes.
Splitting Micanite, consisting of Plates, sheets, molded parts and tapes are made with mica splitting by lay-up, bonded with required thermal class binders and hot pressed. Optionally as per application requirement to add extra flexibility, tensile & mechanical strength a variety of reinforcing backing materials are added.
In addition to the inherent typical properties of Natural Mica Sheets, Outstanding mechanical strength, high dielectric strength, extreme corona resistance and good voltage endurance are few of the features of Splitting Micanite. Further more they also provide significant superiority in mechanical strength.
Major applications of the products are Commutator cones and segments and they are also used for turn insulation or an insulation material against the earth in high power and high voltage rotating machines.
Decorative Uses
Micanite plate has been used as a decorative product over many
years. The combination of the mica flakes with the contrasting color intensity and tones of the binding resins create a unique, random lighting effect. Its primary use has been in lampshades and ceiling panels.