Reinforced Sheet is produced from Mica Splitting being laid-up and bonded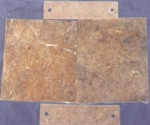 to each other with a high temperature resisting resins on a desired reinforcement backing material i.e. glass cloth, PVC etc. either on one side or both sides. It is then set to sheet form by applying hot press. The used binder resin is controlled to maintain a stable and semi cured state to form dense and flexible sheets so that the sheets can be introduced to forming in any required size without heating.
They possess high degree of tensile strength, rigidity, flexibility, uniformity, pliability, toughness & cohesion. By adding reinforcement backing material, the tensile strength is increased considerably.
Major applications of the Reinforced Micanite sheets are to reproduce insulation covering in transformers, coil insulation, bracing rings, and flange insulation.
Typical Properties
Description

RSP 401

RSE 401

RSS 401

Mica Splitting

Muscovite

Muscovite

Muscovite

Binder Resin

Shellac

Epoxy

Silicone

Thickness

0.2~1.0mm

0.2~2.0mm

0.2~2.0mm

Thickness

Tolerance

Average ±

0.05

0.03

0.03

Individual ±

0.03~0.05

0.03~0.05

0.03~0.05

Re-enforcement

Glass Cloth

Glass Cloth

Glass Cloth

Mica Content % App.

85~90

90~95

86~90

Tensile Strength N/cm

-

80

30

Dielectric Strength kv/mm

> 40

> 50

> 40