Rigid Sheets are made from mica splitting being laid-up and bonded to each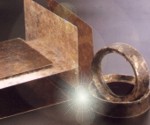 other with a desired thermal class resin. It is then set to sheet form by applying hot press. The used binder resin is controlled to maintain a stable and fully cured state to form dense and rigid sheets so that the sheets can be introduced to machining, shearing, punching or stamping to any required size without peeling.
They possess superior arc-welding resistance & tracking resistance. They provides stable compression resiliency over a wide temperature range, making it suitable for Commutator separator application and high dielectric and flexural strength, thermal stability, low moisture absorption & good arc and flame resistance.
Micanite rigid sheets can be freely used for rings & bushings as well as insulation in construction of control gears and apparatus, critical dimension parts, washers, spacers, discs and gaskets etc. as per application requirements.
Typical Properties
Description

RSP 401

RSE 401

RSS 401

Mica Splitting

Muscovite

Muscovite

Muscovite

Binder Resin

Shellac

Epoxy

Silicone

Thickness

0.2~1.0mm

0.2~2.0mm

0.2~2.0mm

Thickness

Tolerance

Average ±

0.05

0.03

0.03

Individual ±

0.03~0.05

0.03~0.05

0.03~0.05

Density g/cm2

2.0~2.5

2.0~2.5

2.0~2.5

Mica Content % App.

85~90

90~95

86~90

Tensile Strength N/cm

-

80

30

Dielectric Strength kv/mm

> 40

> 50

> 40